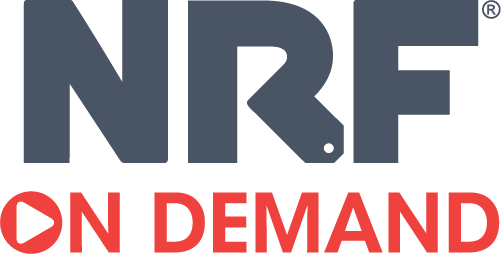 Welcome to NRF On Demand!
NRF on Demand is sponsored by goTRG. This free NRF member benefit provides you and your colleagues with a digital platform hosting over 100 videos spanning 75+ hours of retail content from our industry-leading events. New content is added throughout the year.
Have new topics in mind you would like to see? Send us feedback.
NRF On Demand: NRF Retail Leadership Series
Watch candid conversations with CEOs from the retail industry's most iconic brands on demand, including Lowe's President and CEO Marvin Ellison, Target Board Chairman and CEO Brian Cornell, Hilton CEO and President Chris Nassetta, and Crate and Barrel CEO Neela Montgomery.
More members-only webinars
How to Prepare for a Successful 2020 Holiday Shopping Season
The 2020 holiday shopping season will make history — not because retailers are seeing record-breaking sales or meeting pre-COVID predictions, but because it will look so different. The stakes have never been higher as the pandemic continues to disrupt the retail industry.
Retail Tech Spotlight: Tech-enabled Resiliency Webinar
Designed for retailers and tech investors, the interactive webinar features a fireside chat with Chief Merchandise and Design Officer for Savage X Fenty, Christiane Pendarvis. A series of presentations from The New York Fashion Tech Lab women-led startups focused on how technology enables resiliency. Demo topics include VR, delivery, livestream shopping, ecommerce platforms and in-store engagement.
NRSS Findings: Retail Shrink Rates Surge
The 2020 National Retail Security Survey finds shrink at an all- time high, accounting for 1.62% percent of a retailer's bottom line – costing the industry $61.7 billion. Shrink impacts every aspect of a retailer's operations, but it's LP professionals who are responsible for combatting not only shrink but an evolving host of threats. We will look at the top findings from this year's report and chat with two retailers about how they're tackling multiple challenges.
The State Of Retail Payments In 2020
The State of Retail Payments is a biennial study by the National Retail Federation (NRF) and Forrester that profiles US enterprise retailers' views and decisions about payments. It outlines key priorities and challenges for digital business professionals and payment decision makers.
Members only
Retailers only
NRF x BCG: How to Prepare for the New Reality in Apparel, Luxury, Beauty and Accessories
Apparel, luxury, beauty and accessories companies are working full-force to manage the crisis and protect the business now and in the new reality – but what can we expect the new reality to look like after the crisis is contained, and how should you prepare?
Members only
Retailers only
Thank you for your membership! 
Company-wide membership means more for everyone. Share your favorite video from NRF On Demand with your colleagues.
Looking for other member-only benefits?